ICY Hollow Camper and Camp Gear Rentals - Go Camping Today - 1.800.405.4701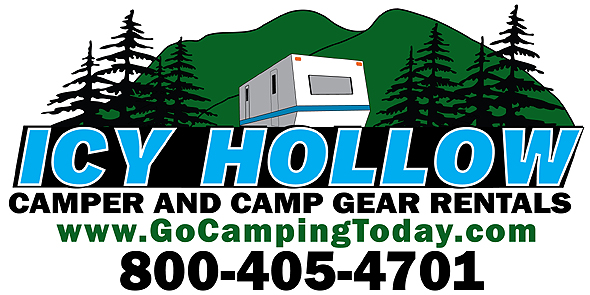 2009 Season ..... Icy Hollow has a wide selection of units available but in order to secure the unit that best meets your needs it is important that you make your reservations early. Due to the current economic situation more families are vacationing locally and we are seeing a significant increase in rental reservations. Local campgrounds are also experiencing significant increases in reservations. Please check the availability of the desired camping unit at the same time that you are making your camping reservations. As a courtesy, Icy Hollow will place a temporary reservation on the available unit of your choice to allow you to make your camping reservations. We will generally do this for between 24 and 48 hours depending on how far in advance of your reservation dates. If you need assistance or advice in making camping reservations, please call us.
Icy Hollow Rentals has been adding additional campers to our inventory. We currently have over 20 different units to choose from and we expect to add even more for the 2009 camping season. Please note that we are presently redesigning and updating our site and that all of our units are not yet listed on the website. Also, as things get much too busy during the season to keep the site updated, units added later in the year may not appear. When contacting Icy Hollow, we will provide you with up to date information on available campers and we will provide photos of any units not shown on our site.
We Deliver & Set Up - - So All You Have To Do Is Show Up!
We started in 2004 with renting our own camper out and by 2008 we were incorporated and renting over 15 units. In 2008, we had 20 units including a park unit in Strawberry Park in Preston City, CT and another in Tropical Palms in Kissimmee, FL. In addition to renting campers and camp gear we provide a number of other services to the RVing and Camping Community.
These services include;
RV & Boat Storage
Winterizing and Spring Openings
Training
Transportations
Outer Beach Services
and more.
FEEL FREE TO CLICK YOUR WAY THROUGH OUR NETWORK OF ONLINE MAGAZINES BELOW
| | | |
| --- | --- | --- |
| | | |
CLICK ON BANNERS TO VISIT EACH ONLINE MAGAZINE - SOME ARE IN THE CONSTRUCTION PHASE AND WILL BE ONLINE SOON
© Copyright 2016 All Photos by Ed and Wayne from The Long Island Web / Website Designed and Managed by Clubhouse2000
* The Long Island Network is an online resource for events, information, opinionated material, and links to the content of other websites and social media and cannot be held responsible for their content in any way, but will attempt to monitor content not suitable for our visitors. Some content may not be suitable for children without supervision from an adult. Mature visitors are more than welcome. Articles by the Editor will be opinions from an independent voice who believes the U.S. Constitution is our sacred document that insures our Inalienable Rights to Liberty and Freedom.
Disclaimer: The Advertisers and Resources found on this website may or may not agree with the political views of the editor and should not be held responsible for the views of The Long Island Network or its affiliates. The Long Island Network was created to promote, advertise, and market all businesses in the Long Island Network regardless of their political affiliation.